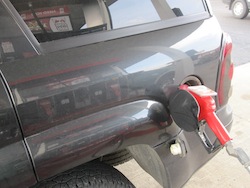 According to a new study released by the Center for Agriculture and Rural Development (CARD), ethanol lowers gas prices in Iowa by at least $1.69 per gallon. This saves the average Iowa family $2,363 per year on gas. What could you use your savings to buy? Fuel, lodging and fun for an Orlando family vacation or 262 movie tickets.
"Bolstering domestic fuel supplies by 10 percent, ethanol reduces demand for high-cost, foreign crude oil," said Lucy Norton, Managing Director of the Iowa Renewable Fuels Association (IRFA). "With the average wholesale price of gasoline jumping 30 percent in the last year, ethanol is helping take the sting out of price shock at the pump."
Each year CARD updates its study. When compared to 2011 data, ethanol has reduced the cost of a gallon of gas by an additional 32 cents. In a post from Cindy Zimmerman earlier this week, Dermot Hayes, ISU professor and one of the authors of the study, explained the methodology of the study, commissioned by the Renewable Fuels Association.
"The greatest contributor to pump prices per gallon is the cost of crude oil according to the Energy Information Administration (EIA)," added Norton. "Ethanol adds 10 percent to the fuel supply displacing the heart of the problem – high-priced crude oil. In fact, while ethanol is 10 percent of a gallon of gasoline, it accounts for only 5 percent of the pump price."