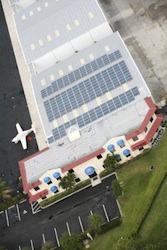 Stuart Jet Center has added solar energy to three of their hangers. The 50 kilowatt system was installed by Peak Solar LLC and is the 5th largest privately owned solar energy system in Florida. The return on investment for the project is estimated to be between 5-7 years with the help of a business rebate from Florida Power and Light along with a 30 percent tax benefit from the federal government.
The solar system features 240 Canadian Solar panels and installation support was provided by Coronado Homes. This is the first solar development at the Stuart Jet Center but additional solar installations are in the works. The Stuart Jet Center said not only did this project make financial sense, but environmental sense as well and hopes other businesses in the community will follow suit and install solar power systems.
This 50kw system will save the equivalent of: 4,835.07 gallons of oil per year; recycle 44,940 pounds of waste; and offset CO2 emissions by 130,333 pounds each year.