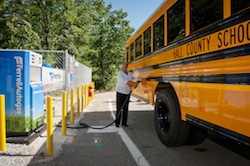 The Hall County School system is the first in Georgia to adopt propane autogas for its school bus fleet. The buses were unveiled during a "Georgians supporting Georgians for a greener community" event that featured Governor Nathan Deal and Lieutenant Governor Casey Cagle. Hall County School system purchased 20 Blue Bird Propane-Powered Vision School buses that were manufactured in Georgia.
The 72 passenger buses each feature a ROUSH CleanTech liquid propane autogas fuel system. According to ROUSH, this system reduces nitrogen oxide, carbon monoxide and total hydrocarbon emissions as well as nearly eliminate particulate matter as compared to buses fueled with traditional diesel fuel.
"We choose propane autogas because not only does it represent significant reduced fuel costs and clean-burning properties, but also because the source, natural gas, is in abundant supply right here in America," said William Schofield, superintendent of the Hall County Schools. "With today's tight school budgets, using a transportation fuel that saves taxpayers money, keeps the environment clean, and keeps jobs within our national borders is a win-win for everyone. Plus, our drivers love how quiet the propane buses perform."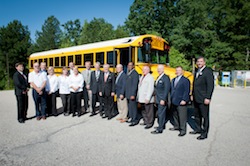 According to the Natural Resources Defense Council, children are among those most susceptible to the health effects of exhaust exposure. Because of this fact, school districts across the country have been looking for ways to reduce exhaust emissions. For Hall County they will pay less than $2.00 per gallon for the propane as compared to $3.50 for diesel. During 2012, the school districts expects to save $36,000 in fuel costs.
Hall County tested the system over a two-year time frame before the decision was made. Phil Horlock, president & CEO of Blue Bird Corporation added, "Schools across the nation are experiencing the environmental and economic benefits of Blue Bird's propane buses. We are proud to deliver a bus that not only provides school children with a reliable, safe and environmentally-friendly ride to and from school every day, but also fuels economic development in Georgia."