TMO Renewables has announced they are making headway with producing pilot scale levels of ethanol from cassava stalk. The company is working with several Chinese fuel and food producers. TMO estimates that they will be able to produce a gallon of ethanol for less than two dollars, an important step for commercialization of fuels using advanced feedstocks.
The company has developed a technology platform that can break down a large number of different types of biomass into cellulosic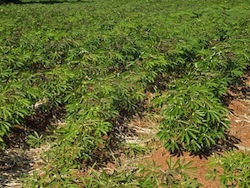 ethanol. The per gallon prices are nearing a point of competitiveness, TMO says, due to their ability to reduce costs through savings in maintenance, production time and capital expenditures. They have also been able to reduce costs through enzyme loadings. When using cassava stalk, TMO is predicting their conversion process will yield 70 to 80 gallons of ethanol per ton of feedstock.
"The total global capacity for 2G biofuels should reach more than 4 billion gallons by 2015," said Pavel Molchanov, energy analyst at Raymond James. "Crucial to even greater production of cellulosic ethanol is the availability of diverse feedstock options, and cassava stalk can play an important role in the Asian market."
TMO's bread and butter partners have been the Chinese who developed the first industrial-scale biorefinery using cassava.  TMO is currently finalizing its process design at its demonstration facility. Once achieved, the company will begin moving forward with plans to expand to commercial scale production.