Ok everybody. It's time to go back to school. Who has the time you think? Who has the money?  Who has a college campus near you? These are no longer valid excuses – the time is now to become energy literate.  There is a FREE online course called Economics of Energy & The Environment being taught by Dr. Ben Ho, Assistant Professor of Economics – Vassar College.  Ho believes that energy use and its impact on the environment will be two of the most important issues of the 21st century. I agree.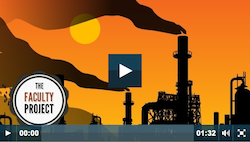 Ho explains that the large role of energy in geo-political relationships combined with the fact that a majority of greenhouse gas emissions believed to cause global climate change come from energy. This means the energy sector must change. This also means great opportunities for those who accept the mission of clean energy.
The class is designed as a primer for those interested in clean energy and its relationship with the environment.  Potential entrepreneurs, investors, managers and policy makers will all find the class beneficial. In addition, all of you folks running and working for energy companies (solar, geothermal, wind, biofuels, etc.) could learn a lot as well as those of us just interested and passionate about renewable energy. Topics will include environmental economics, energy economics, environmental ethics, oil sector, the electricity sector, alternative energy, sustainability, climate change, and climate policy.
I've checked it out and I'm going to take the class this summer, at my own pace. Everything is done online so you can hit the "Internet" when you have an hour or two of spare time and take as long as you need to complete the course. Dr. Ho answers questions so while it is not "real-time" per se, you can still get the one-on-one attention you may desire of the esteemed professor.
So, let's take a DomesticFuel challenge and beef up our energy knowledge (a recent survey said most people were energy illiterate) and take the course. Write comments on the site as you go along. It would be great to get a good dialogue on the topics going. I will pull out some nuggets from each lesson as I take the course over the next few months and share them with you.  Ready…Set….Learn…my readers!