MAGE Solar, who produces solar PV modules, is part of a REOSE award-winning green building design that was adopted to showcase sustainable living and disaster relief housing. The winning house was the Sunshower SSIP House developed by architects and Tulane professors Judith Kinnard and Tiffany Lin. Part of the requirements were to develop practical, price-affordable and real-life applications for mass housing needs. The house also had to meet the standards for emergency disaster response, shelters where displaced people go after natural disasters.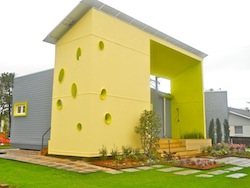 The house included 22 MAGE POWERTEC PLUS 235 W modules to power all the energy needs for the 1,050 square foot home. The solar panels were complimented by energy efficient building materials allowing the 5.1 kW MAGE SOLAR PV system to provide 100% of the home's electricity needs even in extreme conditions.
"The concept of the Sunshower House is truly remarkable," said Joe Thomas, President and CEO of MAGE SOLAR USA. "It's not only completely well functional, but it also incorporates innovative and aesthetically pleasing design at the same time into ready-made construction. We'd like to congratulate not only the winning architects but also REOSE for their commitment in bringing sustainable mass and emergency housing onto an entirely new level."
A prototype of the Sunshower SSIP House is currently on display in New Orleans' Lakeview neighborhood. Consumers, government officials, green building organizations, and relief organizations are all able to tour the home, built using nearly all local or US products.