Commercial demonstration testing of a new gasification technology has proven successful according to Covanta Energy Corporation. The technology gasifies unprocessed post-recycled municipal solid waste in a commercial setting while also reducing emissions and increasing energy efficiency.  The announcement was made during the North American Waste-to-Energy Conference and Covanta said this achievement makes way for the company to offer a 300 ton per day modular system called CLEERGAS (Covanta Low Emissions Energy Recovery Gasification).
"We are always working to stay on the cutting edge of technology to convert waste into clean energy," said Anthony J. Orlando, Covanta's president and chief executive officer. "This new gasification technology is truly exciting. Communities interested in emerging technologies can now partner with Covanta's industry leading team to assure successful project execution."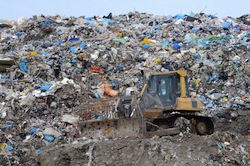 During the pilot phase, the technology processed 350 tons per day of municipal solid waste that did not need to be pretreated. The waste was subjected to high temperatures and reduced air on the gasification platform, where it underwent a chemical reaction that created synthesis gas or syngas. Next, the syngas was combusted and then processed through an energy recovery system that utilizes an emissions control system.
John Klett, the company's executive vice president and CTO added, "Successfully completing this commercial demonstration was a major step in developing new facilities capable of gasifying unprocessed post-recycled municipal waste. Moving forward, our research and development efforts will continue to improve the syngas quality created in the gasification process.  One day, we anticipate this syngas will be utilized as a fuel in a combined cycle facility and potentially, in the production of liquid fuel."