The Renewable Fuels Association (RFA) hosted it's first ever Washington Legislative Forum this week and Senator John Hoeven took time to discuss the elements of the bipartisan Domestic Fuels Act that was released this past March. The discussion was timely as RFA recently released results of a poll showing that 58% of respondents were more likely to purchase fuels with higher domestic renewable fuel content, like E15, when available.  The Domestic Fuels Act is aimed at making it easier for retailers to offer consumers higher blends of ethanol.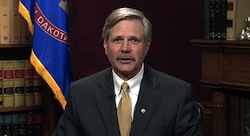 "We need to make all fuels available to American consumers and businesses, and we need to do so by using market-based measures that increase competition and remove bureaucratic obstacles to producing and marketing renewable fuels," said Hoeven. "This is really about giving customers more choice and better prices at the pump by empowering retailers to market multiple fuels using the same equipment. That's good for the customer, good for business and good for the nation."
Hoeven pointed out some specific benefits of the Act that included:
Streamline the process so that all fuels, both traditional and renewable, can be stored and dispensed with common equipment.
Provide liability protection for retailers that meet the streamlined EPA standards, so that they can sell multiple types of fuel with less red tape, providing consumers with more choice and lower fuel prices.
Establish a new pathway for retailers to ensure that their equipment is safe and legally recognized as compatible to sell new fuels, thereby reducing the cost of entry for many retailers.
RFA President and CEO Bob Dinneen added, "Expanding the availability of fuel choices like E15 directly reduces America's demand for imported oil and creates jobs and economic opportunities that cannot be outsourced. The Domestic Fuels Act is a perfect example of the kind of thoughtful policies that can be created when all stakeholders work together for the common good."