The solar photovoltaic (PV) systems market is growing with the help of government incentives that encourage investment. This news came as a result of a new report by GBI Research, "Semiconductors in Solar PV Power Systems to 2015 – Government Incentives and Feed-in Tariffs to Create Growth Potential for Semiconductor Manufacturers." The report concludes that investments in renewable energy will continue to be a major driving force of technological advances in the global semiconductor market. Semiconductors are used in solar PV systems.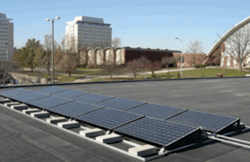 The growth of the industry was helped along by programs such as feed-in tariffs (FIT). The majority of countries leading in solar PV adoption are in Europe including Germany, Italy, Czech Republic, France, and the UK. While there is no federal FIT program in the U.S., some states have experimented with them including California, Florida, Hawaii, New Jersey, and Washington.
Both China and Japan have announced their support in being the leaders in creating more efficient solar PV technologies and this has also helped boost the semiconductor market. Sales in solar PV systems were nearly $27.8 billion in 2011 are expected to grow to $32 billion by the end of 2015. Ultimately, the increase in semiconductor revenue has been invested back into development and improved the technology's efficiency, which has improved the efficiency of solar PV systems.
The report said that next technological advancements will be focused on reducing energy losses and cost-per-watt in an effort to extend the grid to more remote places.