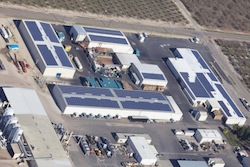 Hughson Nuts, a California based almond processor, has completed a 586 kW solar photovoltaic (PV) system at its 50,000 square foot almond facility. The system has the capacity to produce more than 970,000 kilowatt hours of energy each year and will be used to power the blanching, dry roasting, and cutting lines for producing sliced, slivered, diced and milled almonds. The system was installed by Cenergy Power who says that the energy produced from the solar system will be equivalent to offsetting 730 tons of CO2 from the atmosphere. This is the second solar project Hughson Nut has undertaken.
"Cenergy Power did a great job on an initial 504 kW solar project for a related nut hulling business over a year ago so we were very confident in their capabilities on this second solar project," said Martin Pohl, principal of Hughson Nut. "They were a company of their word, which really helps us meet our dual goals of environmental sustainability while reducing energy costs for the benefit of our growers and partners."
As part of the solar arrangement, Cenergy Power will be providing 10 years of scheduled operations and maintenance for the system, that includes touch-free panel cleanings, preventive maintenance & repair, and overall system warranties.