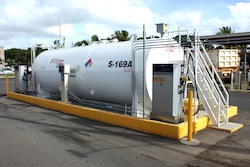 The first of three E85 stations owned and operated by the Navy has opened. The Naval Facilities Engineering Command (NAVFAC) is using the station, located at the Joint Base Pearl Harbor-Hickam (JBPHH) to fuel its fleet of flex-fuel vehicles. Ray Mabus, the Secretary of the Navy, has announced initiatives to reduce petroleum consumption by 50 percent before 2015. In addition, President Obama has called for a 28 percent reduction in greenhouse gases by 2020.
"The addition of this E85 fueling station to our fueling options directly addresses the energy mandates set forth by the Secretary of the Navy and the President," said Capt. John Coronado, commanding officer, NAVFAC Hawaii. "We have over one thousand E85-capable vehicles at JBPHH that will be able to take full advantage of this station and the two others to be installed."
It took a bit over a year for the vision to become reality. In September 2010, NAVFAC Engineering Service Center (ESC) awarded a $315,767 contract to the Honolulu office of Innovative Technical Solutions, Inc, to develop and construct the 10,000 gallon, above ground fueling station. With assistance from NAVFAC and a few other departments, the E85 station came online in late March.
The Navy now has two operational E85 stations open for government-use only. They are currently evaluating potential sites for the next two planned flex-fuel stations.