Last week during the New England Bioheat Symposium 20 oilheat dealers made the switch to Bioheat, heating oil common to the Northeastern part of the U.S. that is a blend of oilheat and at a minimun 2 percent biodiesel. The workshop was held at the Boston Red Sox's home Fenway Park. Competition was a fitting theme as the oilheat industry has struggled to stay competitive.
"Many oilheat dealers today are waking up to the fact that the time for progressive change is upon them," said Paul Nazzaro, petroleum liaison to the National Biodiesel Board. "Bioheat is the first real opportunity for a game-changing shift in more than a century. It is a more desirable product to consumers, offering enhanced energy security, benefits to health and the environment, and American jobs."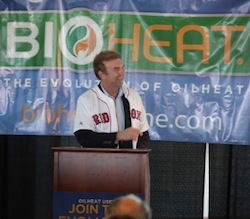 One of the attending companies was D.F. Richard Energy, whose company has it origins in delivering kerosene to neighbors 80 years ago during the Great Depression. The company embraced Bioheat with the sentiment that it is never too late to embrace change.
"As a company, we are willing to try to take oilheat to a different level, where there are many positives to our product. Bioheat makes that possible," said Rick Card, CEO of D.F. Richard. "Our employees feel proud that their company is delivering the evolution of heating oil."
Bioheat is cost-competitive with oilheat, and does not require modifications to the oilheat system. Prior to the Symposium, there were about 235 oilheat dealers registered as Bioheat dealers.