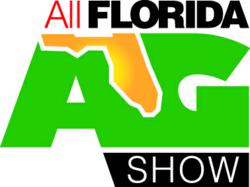 April 25-26, 2012 is the date for the new All-Florida Ag Show sponsored by Florida Grower and the Highland County Farm Bureau. The event will take place at the Highlands County Fair Convention Center in Sebring, Florida and will bring together a diverse group of agribusiness leaders ranging from fruits to vegetables to livestock to biofuels. There will also be a wide array of topics discussed during the show including labor, water, alternative energy, crop opportunities and more.
"The All Florida Ag Show is an important event to support as it provides a unique opportunity to anyone who has interest in Florida's agriculture to meet under one roof and learn about new opportunities, as well as common challenges that our industry faces today and in the future," stated Scott Kirouac, president of Highlands County Farm Bureau.
Several speakers have confirmed including Rich Budell, FDACS Water Policy Chief and Jack Payne, senior vice-president, UF/IFAS, John Hoblick, president, Florida Farm Bureau. In addition, Adam Putnam, Florida Agriculture Commissioner has been invited along with many other agricultural experts. There is also an expansive trade show area planned for the event.
For more information visit: www.allfloridaag.com.