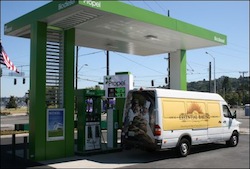 The rule to increase the 2013 Biomass-Based Diesel volumes under the RFS to 1.28 billion gallons needs swift action by President Obama according to the Iowa Renewable Fuels Association (IFRA). The organization sent a letter to the president urging his administration to keep its track record of support for biodiesel and approve the requested increase for 2013.
IRFA President Brad Albin said that with biodiesel plants in nearly every state in the U.S, including 13 plants in Iowa, the increase in volumes would "support family-wage, skilled, green-collar jobs while decreasing our reliance on costly foreign oil and harmful tailpipe emissions."
According to a study by Cardo ENTRIX, the .28 billion increase would support more than 10,000 new jobs. In total, the industry would contribute $2.7 billion to household income and $4.9 billion in GDP. As a U.S. Senator, Obama was an active biodiesel supporter. However, at the end of 2011, his administration announced that it would delay the decision on the RFS volume increase and the industry is still waiting for an answer.
"This is an important issue for the biodiesel industry and absolutely critical here in Iowa. IRFA calls on the Obama Administration to approve this modest volume increase as soon as possible," said IRFA Biofuels Manager Grant Menke. He added that by the end of 2011, the industry was operating at a capacity of 1.4 billion gallons and is capable of meeting the increased target.