Africa and Latin America are taking great leaps to hydropower according to a new report by GBI Research.  Today, hydropower leads the renewable category for the generation of power and is expected to remain in the lead globally despite investments in other renewable resources.  Around the world, hydropower has large support in the form of financial policies and incentives. This had made it gain interest as a viable way to meet increasing electricity demand.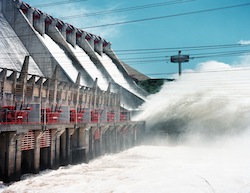 The report predicts that Africa will have become a leading hydropower market by 2020 due to the large amount of water in the country, especially in Mozambique and Ethiopia.  Develop has gone further yet because of the lack of proper infrastructure and investment, which hinders both maintenance of current plants as well as the development of new hydropower plants. Yet there is increasing demand for energy and as a result governments are putting policies and incentives in place to secure industry investments.
In addition to Africa, South and Central America also hold high levels of untapped hydropower energy.  In 2009-2010, Venezuela suffered through a national electricity crisis while ironically it has large amounts of unexploited hydropower energy. Once realized, the government changed it focus towards the development of the industry and several hydropower projects are already underway in the country and being executed by Corpoelec.
In 2005-2010 the global hydropower capacity increased at a Compound Annual Growth Rate (CAGR) of 4.2% for an increase of 601.1 Giga Watts (GW) in 2005 to 739.2 GW in 2010. The report estimates that installed capacity will grow to 1,051.1 GW by 2020.
You can read the report abstract,  Hydro Power Market to 2020 – Energy Management Strategies and Green Funds to Drive Emerging Markets in Latin America and Africa, here.