The Naval Air Warfare Center Weapons Division (NAWCWD) is in the final stage of a biojet fuel project using bio n-butanol produced by Cobalt Technologies. Albemarle Corporation, a chemical company, will use NAWCWD technologies to process Cobalt's fuel into renewable jet fuel. The project is underway in Albemarle's Baton Rouge, Louisiana processing facility.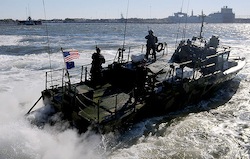 Dr. Michael D. Seltzer, head of NAWCWD's Technology Transfer Program said its production run of Cobalt's bio n-butanol is proving to be another attractive pathway to create sustainable jet fuel for both the military as well as commercial aviation.  "We are proud to be working in partnership with Cobalt and Albemarle to create this renewable jet fuel and we look forward to testing the end result."
The project is funded by NAWCWD and was launched in February 2012. Once completed the bio jet fuel will be tested by the U.S. Naval Air Warfare Center – Aircraft Division as part of the process to achieve military certification for the use of the fuel. The next step after testing will be to engage in larger production runs and additional test flights.
"This is a significant milestone not only for our collective team, but for the greater industry looking to advance sustainable jet fuels," commented Bob Mayer, CEO of Cobalt Technologies. He added that it has been a pleasure working with the U.S. Navy to advance testing and are pleased with the choice of Albemarle as their processing partner.