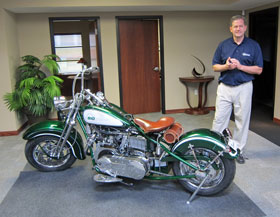 The COO for the National Biodiesel Board, Donnell Rehagen, proudly displayed Susie, the Biodiesel Bike, to a local audience at the organization's headquarters in Jefferson City, MO. The event happened just in time for National Biodiesel Day on March 18.

National Biodiesel Board member CIMA Green partnered with Paul Sr. and Orange County Choppers to craft a high performance diesel motorcycle ready to run on biodiesel. The motorcycle will be featured on two episodes of the hit Discovery Channel show American Chopper on March 19th and April 9th.
Originally unveiled at the Biodiesel Conference & Expo in Orlando, FL, the bike is scheduled for several stops from coast to coast to promote biodiesel.
• March 22-24, Mid-America Trucking Show – Louisville, KY
• May 1-3, Atlantic Region Energy Expo – Atlantic City, NJ
• May 14-17, ACT Expo – Long Beach, CA
• August 28 – September 3, Farm Progress Show – Boone, IA
• October 2-3, Green Fleet Conference – Schaumburg, IL

You can listen to my interview with Donnell here: Interview with Donnell Rehagen