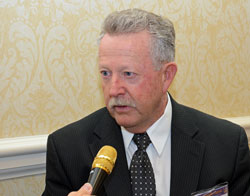 Early March is an important time for the agricultural industry when they come together for Commodity Classic. With the challenges facing both the ag and energy industries, which go hand-in-hand, Terry Swanson, Chairman of the National Sorghum Producers said, "We have to be unified."
When compared to other commodities used to produce biofuels, sorghum growers are a relatively small group. Today, about one third of the sorghum crop is used to make ethanol. However, the industry is hoping to see that number grow. For this to happen, Swanson said they need to speak with one voice.
Swanson, who is a grower in Colorado, said that biofuels and the issues surrounding them, including the RFS, are very important. The RFS is the major driver of increased ethanol use in the U.S. today.
To learn more about sorghum and ethanol, listen to Chuck Zimmerman's interview with Terry Swanson. Interview with Terry Swanson