DuPont Cellulosic Ethanol (DDCE) is hoping to start construction on a 27.5 million gallon cellulosic plant later this year, according to DDCE Global Business Director Steve Mirshak.
At a recent Pioneer Hi-Bred media event, Mirshak talked about DDCE's purchase last year of land in Nevada, Iowa, adjacent to the Lincolnway Energy conventional ethanol plant. "We have some very positive synergies with Lincolnway," Mirshak said. "We're looking at utility sharing and also rail siting sharing. They're a great neighbor and it's been a great relationsip."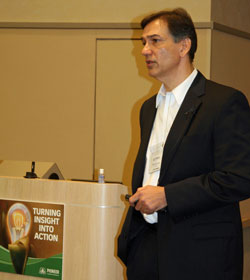 Mirshak says the feedstock for the plant will be corn stover and they have already been working with growers in the region on harvesting that product from their fields. "In 2011, we worked with about 50 growers within a 30 mile radius of the Nevada plant," he said. "We harvested about 7500 acres. Our goal is to collect about two tons of stover per acre." The stover will be baled in large rectangular bales and stored in various sites to be fed to the plant as needed.
He expects corn growers will find that this market and use of stover will fit nicely into their residue management program. "We see it as a win-win situation," Mirshak added. "We're going to generate more ethanol in America's quest for energy independence, help develop the rural economy, as well as help farmers improve their yields and grow more food."
DDCE anticipates the need for about 320 cellulosic ethanol plants by 2022 to meet the federal mandate. "The most important issue is the stability of the Renewable Fuel Standard mandate. That is driving the massive investment in technical research into cellulosic ethanol and the future investment in building new plants," Milshak said. "So our number one priority is to maintain the RFS."
He adds that the cellulosic producer tax credit is also important as companies invest in the first plants and learn to operate more efficiently.
You can listen to an interview with Steve Mirshak here:Interview with Steve Mirshak