New Holland Agriculture announced a major new national "blue is back" advertising campaign at the 2012 Commodity Classic last week and stressed the blue tractor company's support for homegrown fuel.
New Holland North American VP Abe Hughes says they believe that more acreage will be planted this year than anytime in recent history and part of the reason is ethanol. "We're real believers in ethanol at New Holland," said Hughes, adding that the company is a leader in biomass harvest equipment because of their expertise in the hay and forage market. "In that market, we've got some of the best equipment for baling and working with stover for ethanol," he said, not to mention New Holland's combine line, which includes the largest combine in North America.
Listen to an interview with Abe here: Interview with Abe Hughes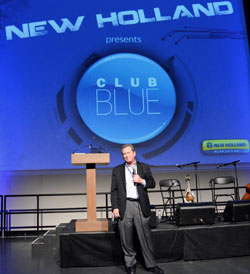 During the Commodity Classic, New Holland held a "Club Blue" event at the Grand Ole Opry for their dealers to discuss their new national marketing campaign and Growth Energy CEO Tom Buis was there to highlight the company's commitment to ethanol. Hughes introduced Buis by saying, "Ethanol's success means our success."
Tom discussed the current state of the ethanol industry and the challenges facing the industry, especially on the regulatory front. He also talked about American Ethanol and the current NASCAR promotional program. New Holland is also a NASCAR supporter.
Listen to Buis' comments here: Tom Buis at New Holland Event