Officials from the South Dakota Governor's Office of Economic Development (GOED) are hosting meetings across South Dakota this week to introduce the state's new Ethanol Infrastructure Incentive Grant Program to petroleum retailers. The program was created to help station owners defray the cost of installation of ethanol blender pumps, which offer consumers a greater variety of fuel choices, including non-ethanol fuels and higher blends like E15, E30, and E85. Funding for the grant program was made possible by a partnership between South Dakota Ethanol Producers and the State of South Dakota.
Representatives from the American Coalition for Ethanol (ACE) are helping educate participants about ethanol blends in the meetings as well.
"The Blend Your Own Ethanol campaign, which is a partnership between ACE and the Renewable Fuels Association, provides marketers across the country with information they need to help them decide whether they want to offer new, higher ethanol blends for their customers," said Ron Lamberty, Senior Vice President, "and we see the South Dakota program as an example that we hope other states will emulate."
ACE Director of Market Development Rick Serie says they are happy to be working with South Dakota on this effort.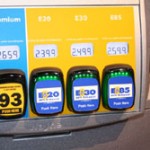 "We are pleased that the state continues to lead the way in creating programs to encourage marketers to install more blender pumps. A program much like this one was a big success last year, and we are excited that South Dakota's ethanol producers and the Governor's Office of Economic Development are willing to continue to support and help implement a program like this that will have so many benefits for retailers and consumers in South Dakota," Serie said.