Former National Security Advisor Robert C. McFarlane will speak at the 6th Annual Iowa Renewable Fuels Summit on January 24. McFarlane's address is titled, "Foreign Oil: Breaking Our Addiction Through Consumer Fuel Choice." The Summit is sponsored by the Iowa Renewable Fuels Association (IRFA).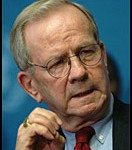 Prior to serving as President Reagan's National Security Advisor, McFarlane was appointed as the President's Special Representative in the Middle East. After numerous years of public service, he founded Global Energy Investors, LLC, and co-founded the United States Energy Security Council. The Council's mission is focused on diminishing the inordinate strategic importance of oil, which stems from its virtual monopoly over transportation fuel.


"We're privileged to have Mr. McFarlane join the Summit program to underscore the hazardous results of the oil monopoly on the U.S. economy," said Lucy Norton, IRFA Managing Director. "His message of consumer fuel choice will make clear how flex-fuel vehicles and renewable fuels can play a significant role in reducing our country's dangerous foreign oil dependence."
The Summit and trade show will be held in Des Moines, Iowa at Veterans Memorial/Community Choice Credit Union Convention Center from 8:30 a.m. to 3:30 p.m. The event is free and open to the public. Pre-registration is required.