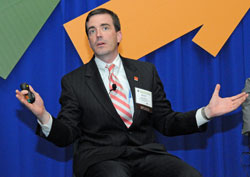 During the National Agri-Marketing Association's Trends in Agriculture Conference, held last week in Kansas City, we had a session that focused on "Trends In Energy/Alternative Fuels" which featured Nathan Schock, POET & Matt Roberts, PhD. Pictured is Matt who is an Associate Professor of Ag Economics at Ohio State University.
Matt does a lot of work in biofuels. One of his take aways from the session is that even though we're going to see a lot of ethanol policy changes in the market soon with the end of the VEETC/Tariff, "There's not going to actually be that large of an impact right now when that goes away." He says long term there may be some impact. The RFS is a different animal though. He believes it needs to be re-opened on the cellulosic side but seems to be working on the corn ethanol side. Changes, however, could have a real impact on the corn side.
He says that when you look at the big picture of ethanol and the biofuels industry there aren't simple answers. He encourages the industry to take a step back and "think about the fundamental reasons that are out there and what's driving it and start with the questions." He says everyone seems to start with an answer looking for a problem to solve with it instead of asking a question first and then seeking the answer to that question.
You can find Matt online at MatthewCRoberts.com.
You can listen to my interview with Matt here: Interview with Roberts