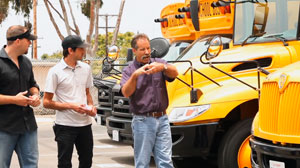 San Diego-based Buster Biofuels has formed an Alliance with LEGOLAND California, the San Diego Padres, hundreds of restaurants, hotels, and resorts to collect their grease and oil and turn it into biodiesel. Now this biodiesel is being used to fuel the San Dieguito Union High School District (SDUHSD) school buses. Emissions from the use of the biodiesel are being reduced nearly 78 percent as compared to traditional diesel fuel.
"Organizations like LEGOLAND and the Padres have a huge amount of oil and there is just no way they can use it all themselves (in the form of biofuel)," said Buster Halterman, CEO of Buster Biofuels. "The concept is to take that oil and recycle it into biodiesel then to reduce carbon emissions locally by putting the fuel into the buses of the San Dieguito Union High School District."
The school district is using a B20 blend in two of their buses and is in the process of converting its entire fleet to the biodiesel blend.
"We want to be at the forefront of green technology," said Daniel Love, the director of transportation for SDUHSD. "It's really exciting to work with Buster Biofuels and to know that we are some of the first ones making this change."
Jason Biddle, Chief Sales Officer for Buster Biofuels added, "It's about asthma, it's about emphysema and it's about helping out the kids! It's about local companies helping local school buses via Buster Biofuels."