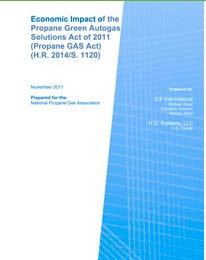 The National Propane Gas Association (NPGA) has released a new study to look at the economic impacts of the Propane Green Autogas Solutions Act of 2011 should it be passed. The Economic Impacts of the Propane Green Autogas Solutions Act of 2011 was performed by ICF International and utilized market data from propane autogas fuel providers, vehicle manufacturers and fleet consumers. The report found that the growth in propane vehicle sales and use created by the tax credits could generate economic activity between $4 and $5.7 billion and provide 30,000 – 42,000 new jobs by 2016.
"H.R. 2014 and S. 1120 would extend for five years federal alternative fuel tax credits for propane used as a motor fuel, propane autogas vehicles and propane autogas refueling equipment," said NPGA President and CEO Richard Roldan. "The Propane GAS Act offers certainty to the marketplace to further solidify propane autogas as a competitive alternative transportation fuel."
"Autogas vehicle market incentives are good fiscal policy. The Propane GAS Act provides incentives to make the switch to an American-made alternative fuel and with clear policy benefits," added Roldan who concluded by noting that in the short-term, no one fuel can displace conventional fuels but propane autogas can have an immediate impact.