Hawaiian Electric Company has again selected Renewable Energy Group® (REG) to supply their sustainable biodiesel needs.
Under the new contract, REG will continue to supply 3-7 million gallons of high quality biodiesel annually for Hawaiian Electric's 110-megawatt combustion turbine generator at Campbell Industrial Park Generating Station for three additional years. Like the current supply contract, the biodiesel will be processed from used cooking oil and waste animal fats. The new contract was awarded as a result of a request for competitive bids issued in February 2011.
"We are committed to beating the legal requirement of 40 percent of electricity from renewable sources by 2030," said Robbie Alm, Hawaiian Electric executive vice president. "We need to bring as much clean energy online as soon as possible."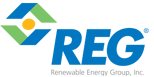 The Campbell Industrial Park Generating Station is the first utility-scale combustion turbine run entirely on biodiesel.
"We are proud to continue our partnership with Hawaiian Electric Company, a progressive, sustainable leader in the electric utility generation business," said Daniel J. Oh, REG president & CEO. "The state should be commended for its leadership in creating a model for other utility companies across the country to follow."