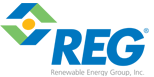 Iowa-based Renewable Energy Group has inked a contract with Hawaiian Electric Company to supply the utility with 400,000 gallons of biodiesel for the company's new Campbell Industrial Park Generating Unit.



This press release from REG says the biodiesel maker will produce the green fuel from used cooking oil and waste animal fat for testing on the 110‐megawatt combustion turbine generator:
"We are proud Hawaiian Electric has chosen us as a partner and look forward to helping Hawaii meet the goals of the Hawaii Clean Energy Initiative by providing high‐quality biodiesel which reduces life cycle carbon dioxide values by 78 percent compared to petroleum diesel fuel," said REG Chairman and CEO Jeff Stroburg. "The state is to be commended for its leadership in creating a
model for other utility companies across the country to follow."
In August, Hawaiian Electric resumed the search for a biodiesel supplier for the Campbell Industrial Park Generation Station after the PUC rejected a previous contract with another potential supplier. In addition to the 400,000‐gallon contract, a second request for proposals to supply 3 million to 7 million gallons of biodiesel per year for two years closed on September 30, 2009, with the goal of completing a contract for PUC consideration by the end of November.
"Being able to use liquid renewable fuels in our generating units is one of many steps ‐‐ including more electricity from other renewable sources such as solar, wind, biomass and the ocean ‐‐ to meet our goal of providing reliable electric service while reducing Hawaii's dependence on fossil fuels," [Robbie Alm, Hawaiian Electric executive vice president] said.
Two years ago, Hawaiian Electric established a policy with the Natural Resources Defense Council to get biodiesel from sustainable palm oil and local feedstocks.