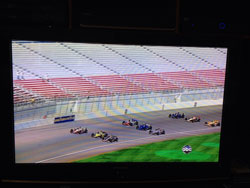 It was with great sadness that I tuned in to today's Indy Car race and saw the 13th lap multi car wreck and learned that Dan Wheldon was killed. Wow. I've had the opportunity to get to know a number of these Indy Car racers over the years. You can say all you want about the wisdom of driving a "car" at 220 MPH but they are still people. This brought back memories of Paul Dana in 2006. I liked Dan and certainly took a number of photos of him in the winner's circle. He was the winner of this year's Indy 500.
Today's race was cancelled after this happened. Then the drivers all rode 3 abreast for five laps to honor Dan. This is just a photo of my tv while they were circling the track.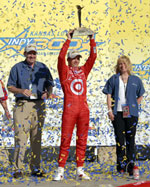 Here's a photo of Dan in the winner's circle in at the 2007 Kansas Lottery Indy 300.
At the time I was working with our sponsor known at that time as the Ethanol Promotion & Information Council (now Growth Energy). Dan won the first race of that season in Homestead, FL. I asked him about racing on ethanol in his post race press conference.
Here's what he said: Dan Wheldon Ethanol Comment
My prayers go out to Dan and his family. It is a shock when something like this happens. I also hope all the other drivers involved in the accident are okay.