Solar energy has taken over St. Louis. The St. Louis Housing Authority recently completed five solar energy projects that included powering its administrative building along with four affordable housing complexes. The 617 KW combined solar projects were designed, installed and engineered by Real Goods Solar and the energy produced is expected to reduce the complexes' electricity use by more than 75 percent and reduce electricity use in the admin building by around 15 percent.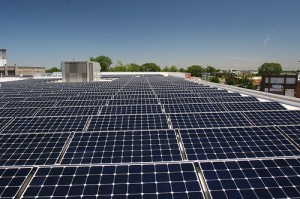 "Solar power isn't just for large corporations or those with large incomes," said Michael Steinbaum, Vice President and Chief Operating Officer at Sunwheel Energy Partners who developed the project. "It provides an opportunity for just about anyone to reduce costs and have a positive impact on the environment."
The total combined systems are comprised of 405 SunPower and 2, 216 Sharp solar panels. The projects were funded through the federal Housing and Urban Development Green Communities stimulus funds along with energy and redevelopment tax credits and all parts of the solar system were manufactured in America. The system includes both roof-mounted and carport canopy solar arrays and are estimated to generate nearly 777,000 hours of energy each year. This is enough electricity to power 81 homes per year.
Tyson Grul, Director of Commercial Solar for Real Goods, added, "The coordination required to install systems on more than 90 buildings – in a wide variety of weather conditions – was no small feat. However, the result is the largest solar initiative in the state so far, and we believe it will open doors for many future projects – putting Missouri on the path to being a national renewable energy leader."