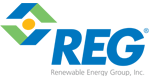 The Renewable Energy Group (REG) will be celebrating the grand re-opening Monday of a Minnesota biodiesel plant that was shut down for three years.
REG acquired the former SoyMor production facility earlier this year, which is now known as REG Albert Lea, LLC. The company will be celebrating the grand re-opening of the plant with members of the Minnesota Soybean Research and Promotion Council, as well as state and local dignitaries, on Monday morning.
"With nationwide demand for biodiesel growing steadily through implementation of the Renewable Fuels Standard (RFS2) and Minnesota's continued biodiesel consumption leadership, we expect to quickly ramp up production at REG Albert Lea, LLC," said REG's CEO Jeff Stroburg when the purchase of the plant was finalized. "With a foundation in agriculture and expertise in domestically-produced, renewable energy, REG is proud to bring green-collar jobs to this rural economy while supporting ag producers in Minnesota and across the Midwest."
Minnesota is a leader in the biodiesel industry, being the first state to require that all diesel fuel contain a two percent blend in 2005, and has since increased to a five percent blend. "Increasing the amount of biodiesel in our fuel allows us to take advantage of a renewable fuel made right here in Minnesota," said Ed Hegland, former National Biodiesel Board Chairman and Minnesota farmer. "I'm proud to live in a state that is leading energy innovations and taking part in valuable solutions like biodiesel."
REG was already the largest biodiesel producer in the United States and the acquisition of REG Albert Lea brings the REG owned/operated total to more than 210 million gallons per year. REG was the general contractor and manager for the 30 mmgy refined vegetable oil feedstock biodiesel plant which originally began production in April 2005. Distribution of biodiesel at the facility started late last month. REG filed for filed an initial public offering in July.