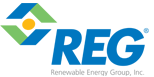 The largest biodiesel company in the U.S., Renewable Energy Group, has filed its registration statement for an initial public offering. The number of shares to be offered and the price range for the offering have not yet been determined. UBS Securities LLC and Piper Jaffray & Co will be acting as joint book-running managers for the IPO. In addition, Stifel, Nicolaus & Company, Incorporated and Canaccord Genuity, Inc. will be acting as co-managers.
Although not yet effective, a registration statement relating to these securities has been filed with the Securities and Exchange Commission. Prior to the time the registration statement becomes effective, these securities may not be sold, nor may offers to buy be accepted. REG says the offering is only being made by means of a prospectus.
A copy of the prospectus relating to these securities may be obtained, when available, from: UBS Securities LLC, Attention: Prospectus Department, 299 Park Ave, New York, NY 10171, (888) 827-7275 or by contacting Piper Jaffray & Co., Attention: Prospectus Department, 800, Nicollet Mall, Suite 800, Minneapolis, Minnesota 55402, (800) 747-3924 or via email at prospectus@pjc.com.