The winner of this year's Merle Anderson Award goes to USDA Under Secretary for Rural Development Dallas Tonsager for his support of the ethanol industry. The honor was given by the American Coalition for Ethanol (ACE) following their ethanol conference. Tonsager, who said he was pleased to win the award, was honored for his lifetime commitment to the promotion of both agriculture and the renewable fuels industry and more specifically, his work on implementing the Rural Energy for America Program (REAP).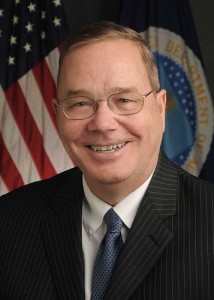 The REAP program is currently helping retailers in rural communities install E85 pumps and blender pumps which offer consumers various blends of ethanol that oftentimes include E20, E30 or E40.
"I am excited to receive this honor that recognizes the work that USDA is doing to help our nation develop home-grown energy that creates jobs, helps to break our dependence on foreign oil, and moves our nation towards a clean energy economy," said Tonsager.
Merle Anderson was the founder and first president of ACE and currently serves as Chairman Emeritus of the ACE board of directors. Brian Jennings, ACE executive VP added, "His work in developing blender pump infrastructure has been tireless and Dallas has always been a champion for the ethanol industry. It means a lot for rural America to have Dallas working in Washington on behalf of agriculture and the ethanol industry," Jennings said.