The Two Dot community wind farm located about 90 miles Northwest of Billings, Montana has taken another step forward in the development of its wind energy project. NorthWestern Energy and OwnEnergy, a developer of community wind projects, announced the signing of a 25-year Qualifying Facility Agreement for the 9.7 megawatt Two Dot Wind Farm.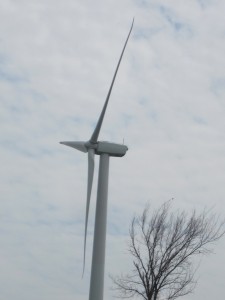 OwnEnergy will sell the wind energy to NorthWestern Energy and the two organizations negotiated a long-term rate well below the current rate of $69.21. As a result, OwnEnergy obtained curtailment provisions that are more favorable than ones traditionally found in a Qualifying Facility Agreement.
"Thanks to this agreement, our customers will benefit from the addition of a renewable energy source at a rate more beneficial to ratepayers," said John Hines, Vice President – Supply for OwnEnergy. "With our other recent wind QF purchases, we are nearing the limit of installed wind capacity that we are allowed to purchase through this tariff."
The Montana Public Service Commission set a rate for NorthWestern Energy to purchase up to 50MW of wind generation. When the company reaches the cap, the MPSC will reexamine the wind QF tariff and related policies.
The Two Dot Wind project is owned by Dave Healow and Dana Dogetrom and exemplifies community wind projects. The wind farm will not only create renewable electricity, but also provide jobs for members of the community.  It is expected to be completed and in production by the spring of 2012.
Jacob Susman, founder and CEO of OwnEnergy, added, "This is an exciting milestone for OwnEnergy, Two Dot Wind, LLC and the local Montana community. NorthWestern has once again shown true leadership, demonstrating that power generation can be environmentally friendly at the same time as being cost-effective."