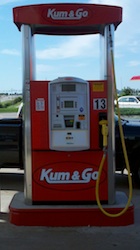 Second quarter E85 (85 percent ethanol, 15 percent gasoline) sales in Iowa have hit an all-time record increasing 40 percent during the second quarter. According to the Iowa Department of Revenue, sales of E85 by Iowa retailers reached 3,697,199 gallons from April to June of this year, setting a new record.
"Iowans continue to have more E85 fueling options – and they are taking advantage of them in record fashion," said Iowa Renewable Fuel Association Executive Director Monte Shaw. "E85 remains a good bargain – for our pocketbook, our economy, our national security, and our environment."
There are currently 144 retail stations selling E85. A list can be found here. Retailers wishing to offer E85 may be eligible for a state grant to offset some of the equipment and installation costs. The Renewable Fuels Infrastructure Board is taking applications now. For an application, contact Harold Hommes, Iowa Department of Agriculture, at 515-242-6237 or harold.hommes@iowaagriculture.gov.