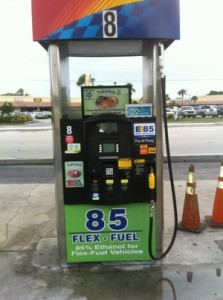 Just in time for Labor Day travel (I will be one of those millions of travelers but I will be using ethanol) a new E85 station has opened in Planet Ozone at 1601 S.E. Federal Hwy. in Stuart, Florida. The new pump was opened in partnership with Protec Fuel. E85, a blend of 85 percent ethanol and 15 percent gasoline, can only be used in flex-fuel vehicles.
The benefits of E85 are many including the reduction of emissions, lowering dependence on foreign oil, spurring economic growth and is domestically produced.
Planet Ozone's name implies more than just a greener fuel. The company also built one of the first "green" buildings in the area. The $3 million structure houses a Sunoco, an international grocery store, a Mediterranean and Middle-Eastern food cafe, and juice bar. The building also recycles rainwater and many of the building materials were recycled.