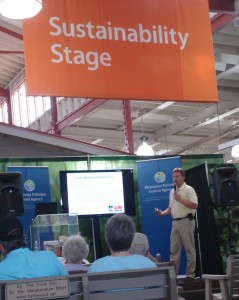 The American Lung Association in Minnesota presented "The Clean, Green Minnesota Bean" over the weekend during the Minnesota State Fair. Randy Hilliard with the Agricultural Utilization Research Institute (AURI) gave a presentation to the fairgoers from the Sustainability Stage of the Eco Experience Building. The topic? Soybeans.
Hilliard discussed the market for plastics, fabrics, cleaners and other bio-based materials, all made from soybeans, which can be used in place of materials made from petroleum. Supporters of "The Clean, Green Minnesota Bean included the United Soybean Board, Minnesota Soybean Research and Promotion Council, Twin Cities Clean Cities Coalition and the American Lung Association in Minnesota.
Using crops such as soybeans and corn to create products rather than using petroleum is not new. Henry Ford, the founder of the Ford Motor Company, used soy plastics back in 1935 and every vehicle that rolled off the assembly line contained nearly 60 lbs, or one bushel of beans in the form of gearshift knobs, horn buttons, window frames, accelerator pedals, and more.
It may have taken multiple decades, but Detroit is once again looking to soy plastics. The AURI and Minnesota Soybean Growers Association recently held a conference in Mankota, Minnesota to discuss the potential of bio-based plastics to grow jobs in the state.