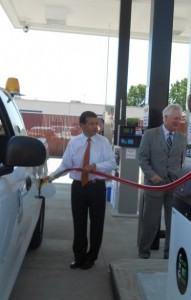 A new compressed natural gas fueling station has been opened in Santa Ana, California by Waste Management of Orange County. PetroCard operates the Clean N' Green station and will sell CNG to commercial fleets including transit agencies, school districts, taxis, cities, and municipalities. Supporters of CNG say that the price of fuel is one-third below the cost of gasoline and diesel. In addition, they say nitrogen oxide emissions are reduced by up to 50 percent and greenhouse gas emissions by over 21 percent and more than 80 percent when using landfill gas derived CNG and LNG fuel.
"CNG is addressing two of the biggest imperatives for fleet owners today – reducing costs and decreasing emissions," said Steve Tolton, CEO of PetroCard. "Our collaboration with Waste Management at this facility makes it more convenient for fleet owners to save money at the pump while shrinking their carbon footprint from operations."
Waste Management has also added new infrastructure to fuel its existing fleet of CNG recycling and trash collection vehicles at the Santa Ana site. The company currently operates the largest fleet of heavy-duty natural gas trucks in North America. Approximately 80 percent of these natural gas trucks operate in Southern California including 141 natural gas powered trucks in Orange County.
"We are dedicated to doing business in the most sustainable way possible as well as offering our customers more ways to live green," said Jason Rose, general manager and vice president of Waste Management of San Diego and Orange County. "Natural gas powered vehicles run cleaner and quieter, improving air quality and reducing noise pollution. Santa Ana can look forward to cleaner air and neighborhoods as we get more CNG vehicles on the road."