A CCSE Residential Energy Roadshow has kicked off an 18-week tour in San Diego, California designed to "educate and inspire" Southern Californians to learn more about energy saving technologies, alternative fuel transportation and energy efficiency. The sponsors are the California Center for Sustainable Energy (CCSE), ROUSH CleanTech and Ferrellgas.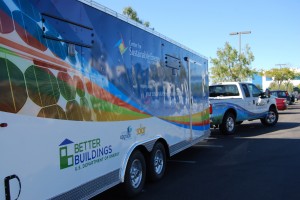 "Thanks to generous donations from ROUSH CleanTech and Ferrellgas, hundreds of thousands of Californians will be able to learn about home energy efficiency, solar energy and the products and incentives available to them when visiting the mobile exhibit," said Irene Stillings, CCSE executive director. "This is a perfect example of how multiple clean technologies can work together to demonstrate energy savings, reduce greenhouse gas emissions and promote more sustainable practices."
The tour includes a trailer that is being towed by a Ford F-250 pickup converted to run on propane autogas. When the truck needs to fill up, it will roll on into one of Ferrellgas's 200 propane stations to refuel. In addition to ROUSH and Ferrallgas, the tour is also funded with money from the Department of Energy's BetterBuildings Neighborhood program along with two state programs: Energy Upgrade California and go Solar California!
"Ferrellgas is proud to partner with the California Center for Sustainable Energy and ROUSH CleanTech to educate Californians about ways to save money and the environment by implementing energy efficiency solutions in their homes and at their businesses," said George Koloroutis, president of Ferrell North America and senior vice president of Ferrellgas. "As the nation's leading propane retailer, we've been doing just that for more than 70 years."
Todd Mouw, vice president of sales and marketing for ROUSH said that this is a great way demonstrate that propane autogas is the most readily deployable and flexible alternative fuel that can immediately address air concerns.