Several companies have signed agreements to work together to co-develop three Irish wind farms valued at euro 18 million. Gaelectric, and XEMC VWEC will first deploy the XV90 turbines at three Gaelectric on-shore sites: Roosky in Co. Roscommon; Leabeg in Co. Offaly; and Crowinstown in Westmeath. Total combined energy produced is expected to be at least 13.6 MW.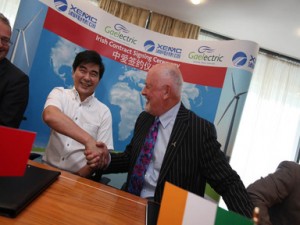 During an event highlighting the signing of the contract in Dublin, Ireland, Zhou Jianxiong, XEMC's Group Chairman said, "Gaelectric's pipeline of wind farm projects in key locations, combined with our shared focus on innovation in renewable energy technologies, makes us ideal allies in co-developing Gaelectric's portfolio of renewable power projects."
"We are particularly pleased that the sites that we intend to co-develop with Gaelectric are very suited to establishing our Direct Drive Permanent Magnet Generator (PMG) turbine technology as the leading global wind generation technology delivering low service and maintenance costs, competitive pricing, and high availability and annual yield," he added.
XEMC has 820 of its XE-series turbines installed in China. Its XE-series are the largest turbines in mass production in China.
"Our alliance with XEMC is a significant strategic step for Gaelectric. With the backing of XEMC's industrial strength and technological capacity, and their track record and commitment to long term relationships, we are confident that Gaelectric's portfolio of wind farm sites will be realised to the highest commercial and technical standards," said Gaelectric CEO, Brendan McGrath. "Our visit to China in March of this year confirmed to us XEMC's commitment to research and development which combines Dutch engineering design and pedigree, with Chinese industrial power. We also share a vision for the significant opportunities from off-shore wind energy generation on which we are already working closely together."