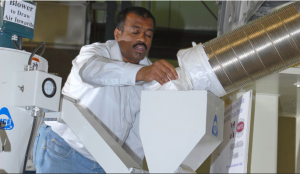 A new way to remove fiber from corn has been discovered by a professor from Mississippi State University (MSU). He calls his process Elusieve and has filed for a patent. The process was invented by Dr. Radhakrishnan Srinivasan of the MSU Department of Agricultural and Biological Engineering with some help from University of Illinois professor Dr. Vijay Singh who believe the process will improve both ethanol production efficiency as well as dried distillers grains (DDGS).
"Corn has mainly starch, fiber and protein. We are removing the fiber, so the starch is increased in concentration. Therefore, you can produce more ethanol," Srinivasan said in an interview with Mississippi Business Journal.
Srinivasan explains that pigs and chickens cannot digest fiber well. By removing the fiber from its feed, which consists primarily of DDGS, ground corn
flour and soybean meal, the energy content of the feed is improved and reduces the need for expensive ingredients such as fat and enzymes. He believes the Elusieve process will be adopted by feed mills to separate fiber downstream of the bins where the feed is stored.
Today, there is one pilot plant using the Elusieve technology at MSU and its using a combination of sieving and air classification, called elutriation, to separate out the fiber. From there, the feed is sieved into four sizes and air is blown through the three biggest to carry away the fiber. Ultimately this process increases protein of feeds like DDGS and also increases starch content.
Other researchers are working on technologies to remove fiber from corn but Srinivasan said his is less expensive and less complicated. His has already received the patent for DDGS via Elusieve.