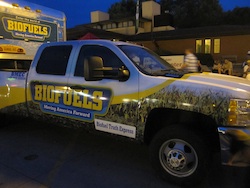 I finally made it to the Iowa State Fair last weekend and while I was walking around getting my eat on I spotted this biofuels truck. It was the "Biofuels Truth Express," and was parked along the road across from the main grand stand, where I was headed to go hear the Maroon Five and Train concert (and yes they both rocked!).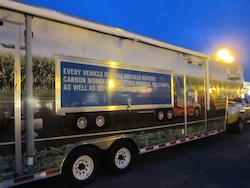 As I took a few photos several people stopped to take a quick look. Ironically, though, I never spotted any website or name of an organization who owned the truck. I'm sure if I spent more time checking out the fair I would have solved my little mystery, but alas I still haven't. So I'm asking our readers – can you tell us more about this truck and the campaign?
I'm always excited to see biofuels promoted in a positive way so regardless of not having all the pertinent info for a story, I still wanted to take the opportunity to showcase some homegrown fuels – ethanol and biodiesel.