Several races have been taking place in Bonneville Salt Flats in Utah and last week Hajek Motorsports broke two land-speed records for biodiesel and diesel trucks. The team competed with a Ford F250 Super Duty truck and set the first record on August 16 using biodiesel made from soybeans. The team, owned by Brent Hajek, also broke the diesel speed record and both were achieved using the new 6.7 Power Stroke V8.
Using regular diesel, the team reached the top speed of 171.123 mph and 182 mph on a B20 biodiesel blend. The regular diesel record was achieved on athe first attempt and solidified in the second run. Then the team drained the diesel and switched to biodiesel. The biodiesel land speed record was broken at 130.64 mph.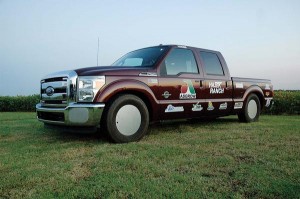 Hajek is a soybean farmer from Ames, Oklahoma and owns the Hajek Motorsports Museum in Ames where the record-breaking pickup will be on display.
"There are a lot of soybean farmers in this area trying to promote soy products and keep some of the diesel money in Oklahoma, where they are grown," said Hajek in an interview with Enid News and Eagle.
Hajek is a biofuels enthusiast – two years ago he set a land speed record with Mustang using E85 and reaching 254 mph. His next goal is to reach speeds of more than 200 mph using biodiesel.