The network of biofuels stations in the west will be expanding with a new partnership between Propel Fuels and Pacific Convenience and Fuels (PC&F). The program will co-locate Propel "Clean Fuel Points" with PC&F gas stations and convenience stores throughout the west. So far, 80 potential locations for the program have been identified in California, Washington, Oregon, and Colorado. The plan is to offer consumers more access to renewable fuels such as ethanol and biodiesel and enable both companies to accelerate expansion plans.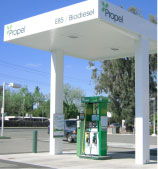 "This first of its kind agreement allows us to quickly scale our business, opening the door to renewable fuel access across the Western U.S., America's most underserved market for renewable fuels," said Matt Horton, CEO of Propel. "And with U.S. automakers significantly increasing production of Flex Fuel and diesel vehicles, we will give customers true choice at the pump, making progress towards reducing our nation's dependence on foreign oil and lowering carbon emissions."
Clean Fuel Points are self-serve filling stations that dispense ethanol and/or biodiesel. They are located at existing gas stations (such as PC&F stations) but Propel still owns and operates the equipment and provides programs to drive sales and educate consumers about alternative fuels.
Chris Wilson, general manager of PC&F added, "Pacific Convenience and Fuels is redefining the customer experience at convenience stores. Providing access to renewable fuels aligns with this mission while satisfying the growing demand for these products. We are pleased to partner with Propel, the leader in alternative fuels, to bring this option to our customers."