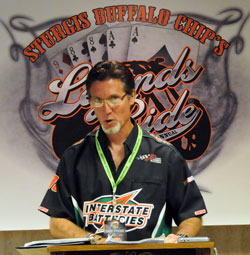 Sturgis Motorcycle Rally sponsor Interstate Batteries likes seeing ethanol as a sponsor too since both companies are energy oriented.
According to Mike Ragan there's also a tie through the fact that both are working on more environmentally friendly means of producing energy. In my interview with him he describes how they're changing some very old technology. He also made a point of saying that batteries are the most recyclable part of a car. He says eighty percent of a battery can be recycled including the casing.
Interstate Batteries sets up a battery testing tent at the Buffalo Chip in which they stock some of the most popular battery sizes. While we talked a bike rolled in, got its battery tested and replaced.
Listen to my interview with Mike here: Interstate Battery Interview
2011 Sturgis Motorcycle Rally Photo Album
Domestic Fuel coverage of the Sturgis Motorcycle Rally is sponsored by The Renewable Fuels Association