It's good to see that the U.S. has not lost all of its renewable energy manufacturing jobs overseas. Today, Ventower Industries has cut the ribbon on its new 115,000 square foot wind turbine manufacturing facility located in the Port of Monroe, Michigan. A ceremony earlier this week marked the occasion and acknowledged the four-years of work between Ventower management, local, state and government entities and various funding agencies.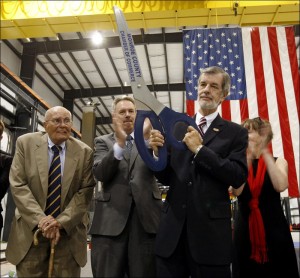 "I am grateful for the commitment and the efforts of our shareholders, employees, contractors and the unwavering support of our economic development and training partners who contributed to building this state of the art facility," said Gregory Adanin, Ventower president & CEO. "Ventower is well positioned to supply towers to our Great Lakes region where we continue to see increased wind project development opportunities. It is and always has been our goal to become an integral part of the industry supply chain and be part of advanced wind energy component manufacturing, education and innovation."
Production at the facility will begin later this month to meet orders for towers this year and into 2012. The company will provide wind towers for both onshore and offshore applications and is focused on customers throughout the Great Lakes and Atlantic Regions.
"Our commitment to domestic manufacturing, job creation and renewable energy have all been important drivers during our initial efforts here in Michigan. Moving forward, Ventower will embrace the new, green economy while utilizing advanced fabrication techniques and processes at our state of the art facility," added Board Chairman James Viciana.