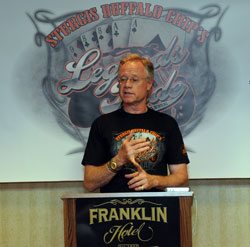 The owner of the Buffalo Chip Campground is Rod "Woody" Woodruff, seen here at a press conference during the Sturgis Motorcycle Rally. The focus of the concerts and events is The Chip as it's called.
I visited with Woody in his office and learned how he got this event started out here on the property that's just three miles outside the city of Sturgis. Woody was born in South Dakota but had moved to San Francisco. He came back and wound up staying. He says the city fathers were kind of fed up with the Rally and he thought it would be "just like throwing a keg party in high school," so he started one just outside of town.
Woody says the relationship with the Renewable Fuels Association as a sponsor of the Rally was a natural fit. He says that a long time ago a local co-op told him he should use the fuel. "I've been using it in my own vehicles for however long that's been and exclusively." He says he even notices getting better fuel economy!
Listen to my interview with Woody here: Interview with Woody at The Chip
2011 Sturgis Motorcycle Rally Photo Album
Domestic Fuel coverage of the Sturgis Motorcycle Rally is sponsored by The Renewable Fuels Association