Butamax has been granted another patent – number 7,993,889. This patent protects foundational methods for low-cost production of biobutanol. Currently, Butamax has over a hundred patent applications pending in addition to those already granted and several of the applications are under accelerated review in the USPTO Green Technology Pilot Program. The company says its intellectual property encompasses advances in technology across the renewables value chain including the production, purification and use of biobutanol as a renewable fuel component.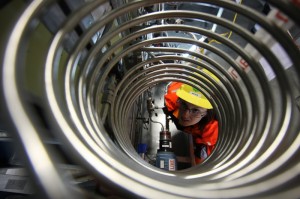 "The strength of Butamax's patent portfolio is a testament to our company's innovation capability and is a critical asset as we commercialize the most significant new fuel molecule since ethanol," said Paul Beckwith, CEO of Butamax.
Peter Matrai, COO of Butamax added, "Butamax's comprehensive intellectual property estate offers licensees a unique commercial opportunity underpinned by a fully proprietary technology package."
In other Butamax news, they announced the filing of a second patent infringement against Gevo, Inc. for its unlawful use of Butamax biobutanol technology. The lawsuit was filed in the U.S District Court in the District of Delaware and is based on Gevo's infringement of U.S. patent no. 7,993,889 that was granted to Butamax just this week.
Beckwith said of the patent infringement, "The success of any new technology start-up is dependent on protection of innovation. It is our obligation to assert our intellectual property rights in order to defend value for our partners and to protect the viability of this emerging industry."