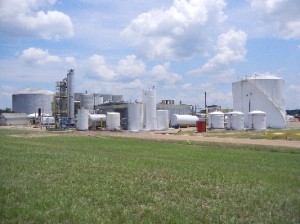 There are some changes taking place in the biodiesel industry. Enervation Advisors has purchased its third biodiesel plant, this one located in Adrian, Michigan. The company has purchased the closed NextDiesel plant and its first step is to update the technology and put the plant back online. When this occurs, the plant will operate as LVA Adrian Biofuel LLC. This is the third distressed biodiesel plant Enervation Advisors have purchased – the other two are located in Iowa.
Down south, Vanguard Synfuels, LLC held a grand opening of its newly refurbished 15 million gallons per year biodiesel plant today. The plant is located in Pollack, Louisiana and was founded by a local group of foresters and loggers who turned a vacant ammonia plant into a biodiesel biorefinery. The plant became idle in 2007 due to high soy oil feedstock prices but the company has updated its technology to enable the plant to produce biodiesel from various feedstocks including used cooking oil and waste fats from poultry, fish and farm animals.
In other positive news for biodiesel, government trucks in Athens, Georgia are running on biodiesel again. Many Athens-Clarke County vehicles operated on biodiesel until 2007 when their distributor stopped selling biodiesel. This year, the county began purchasing the renewable fuel from a new supplier, Down to Earth Energy, based in Monroe. Nearly 200 county-owned tractors, trucks, bulldozers and other heavy equipment use about 20,000 gallons a month of B5 which is produced locally form cooking oil pine trees and algae.