Next week the 71st Annual Sturgis Motorcycle Rally kicks off in Sturgis, South Dakota. Once again, thousands of motorcycle riders will have the opportunity to learn about the benefits of ethanol at the Legendary Buffalo Chip through the Renewable Fuels Association's "Fueled with Pride" sponsorship.
Similar to past years, RFA will hand out promotional materials and merchandise. In addition, an E85 flex-fuel motorcycle will be on display in a photo booth where attendees can have their picture professionally taken with the Buffalo Chip logo in the background. The photos will be available on the ChooseEthanol website. RFA is using this opportunity to educate attendees from around the country about ethanol, which is often characterized as a problem fuel for engines found in motorcycles.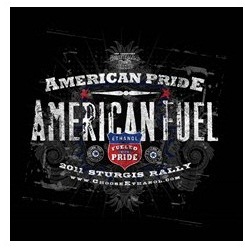 "This event provides an opportunity to reach out to such a large group of consumers at one time and let them know about the benefits of ethanol fuel that is produced right here in the U.S.," said Buffalo Chip Campground Sponsorship Director Lon Nordbye. "This year, we will be able to show them too with our E85 motorcycle display. "The Chip is excited to continue its partnership with the RFA and show our rally attendees that they can have a choice in fuel, no matter what their engine type is."
Another key Sturgis event is the Fourth Annual Legends Ride, taking place on August 5, where more than 500 riders are expected to join together to ride 50 miles from Deadwood, South Dakota to the Legendary Buffalo Chip. RFA also sponsors this charitable event that has raised more than $150,000 in three years, with all proceeds benefiting the Black Hills Special Olympics and the Sturgis Motorcycle Museum and Hall of Fame.
"We are happy to be partnering again with the Buffalo Chip to show riders that ethanol-blended fuels are a safe and effective alternative to petroleum that can used in motorcycle engines, along with every other vehicle riders have at home," said Robert White, RFA Director of Market Development and motorcycle enthusiast. "Increasing the use of domestic, clean-burning fuels allows us to become a more energy secure country, reducing our dependence on foreign oil and creating more jobs."