A new report commissioned by Paris-based Renewable Energy Policy Network for the 21st Century (REN21) shows that the renewable energy sector continues to perform well despite the continuing economic recession, incentive cuts and low natural gas prices. In fact, "Renewables 2011 Global Status Report" calculates that renewable energy supplied around 16 percent of global final energy consumption and accounted for nearly 20 percent of global electricity production. The report was authored by Janet Sawin, a senior fellow with the Worldwatch Institute along with a global network of research partners.
When you include large and small hydropower, which is estimated to have added 30 gigawatts of power in 2010, renewable energy accounted for approximately 50 percent of total added power-generating capacity in 2010. Also increasing in capacity last year was the solar water and space heating industry which added approximately 25 gigawatts-thermal (GWth) or about 16 percent.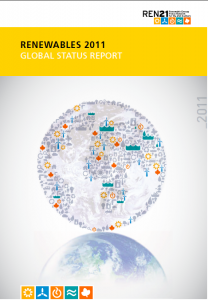 "The Global Status Report shows that despite the recession, renewables are growing at an enormous rate," said Director of Climate & Energy Alexander Ochs who contributed to the report. "Still, there are 1.5 billion people who don't have any access to energy, and 3 billion people relying on traditional biomass sources and coal. If we want to prevent climate change from spinning out of control, we need to scale up our efforts to accelerate renewable energy development and deployment at all levels. Worldwatch will continue to provide guidance as to how this can be done."
The driver for growth continues to be renewable energy policies. By the beginning of 2011, there were at least 119 countries that had some policy target or renewable energy policy at the national level. In 2005, this number was only 55. The report details that more than half of these countries represent the developing world and at least 95 countries have policy specifically to grow renewable power generation. In the United States, for example, 30 states (plus Washington, D.C.) have Renewable Portfolio Standards (RPS).
While feed-in tariffs are somewhat taboo in the United States, they remain the most common mechanism worldwide to encourage adoption of renewable energy sources. Also somewhat lacking in the U.S. private investments in the industry on a global scale reached $211 billion last year, up from $160 billion invested in 2009. Money invested in renewable energy companies, utility-scale generation, and biofuel projects increased to $143 billion, with developing countries surpassing developed economies for the first time, according to the Global Status Report's recently released companion report, "UNEP's Global Trends in Renewable Energy Investment 2011." Not surprisingly, China attracted $48.5 billion, or more than a third of the global total.
In addition to the report, REN21 also launched its Renewables Interactive Map, a tool for gathering and sharing the renewable energy developments.